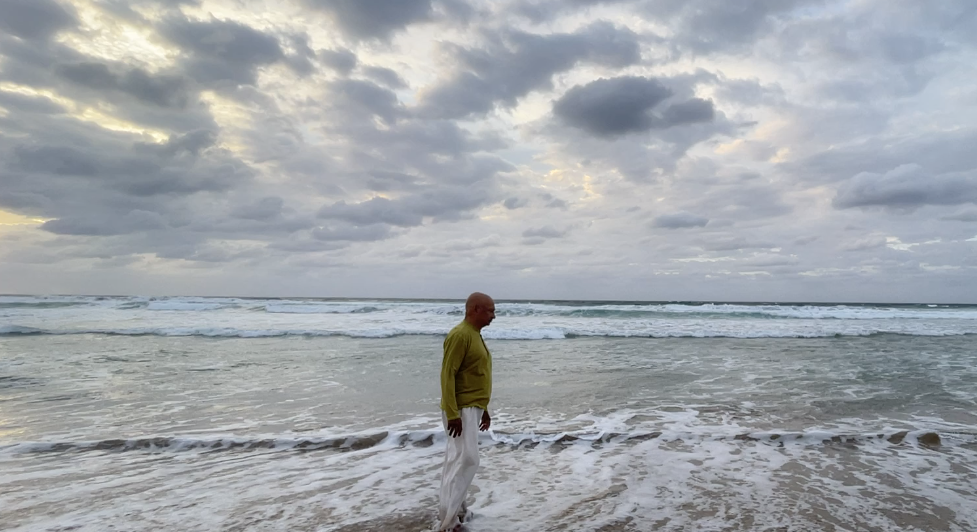 "A musician must make music, an artist must paint, a poet must write, if he is to be ultimately at peace with himself. What one can be, one must be"
Ron Ragel is a Sri Lankan-born multi-instrumentalist, music educator, author, painter, mentor, meditation and mindfulness facilitator and co-managing director of an internationally renowned music record label, Medicine Music.
As a musician/composer he has released over 18 acclaimed CDs on the healing power of music and sound providing a soundtrack to millions of yoga students, meditators, documentary filmmakers and those simply seeking peace and a stress-free life around the world – since the turn of the century. His latest literary work – The Way of the Sacred Warrior – has garnered acclaim for providing the essential and practical tools for the journey towards a happier, fulfilled and more conscious way of living.
He began playing stringed instruments at the early age of six in his country of origin Sri Lanka, then moved to Australia in the early seventies where he began playing music professionally in Sydney. He was a founding member and bass player in the popular 70's group DARK TAN, who were the first all-Asian band to have received national recognition in his adopted country in the mid-seventies. After leaving Dark Tan in 1976, Ron went on to establish a long and successful career in the music industry, pioneering world music in Australia throughout the nineties and early 2000's; not only as a musician but producer, event manager and consultant to many National Music Festivals.
Ron met his partner Vicki in 1997. She is also an accomplished multi instrumentalist, composer and producer and has several personal albums on national and international release. Their initial union was a meeting of minds and musical talents together pioneering world music in Australia with recordings, concerts and festivals all over the country. At the turn of the century they had for a period of time been the most prolific contributors in the prestigious ARIA awards (AUSTRALIAN RECORD INDUSTRY ASSOCIATION) with over thirty percent of the entries coming from their record label. Their label won the category for BEST WORLD MUSIC ALBUM in 2002. They conceived produced and presented the AUSTRALIAN WORLD MUSIC AWARDS BETWEEN 1999 AND 2001 – a landmark event in the Australian cultural and music calendar that showcased the pinnacle of achievement in world music for Australian artists.
Ron is dedicated to using music, art and meditation to affect human consciousness for the highest good. As a conscious artist he promotes his art and music as vehicles for creating social change and the combination of his passion for personal development and spiritual exploration makes him a unique artist.
Ron is regularly engaged as a speaker where he delivers lectures on diverse topics such as "Stress management for everyday living", –"How to stay calm and relaxed in a chaotic world", "How sound and music can be used for general well being and happiness," "The Way of the Sacred Warrior", and the "Call of the Way" – his pilgrimage walking the Camino De Santiago in Spain." Some of his corporate clients have included Channel Nine Television Network, P & O Cruises, Public Hospitals, Juvenile Detention Centres, and National Universities.
He writes a regular blog inspiring people with his thoughts and inspirations and coaches and mentors individuals and groups helping them to move to the next level and become creative and powerful forces in their personal and professional lives.
Over the years Ron has supported and worked for many humanitarian causes notably Sarvodaya (Sri Lanka's largest NGO) and Bodhicitta Foundation in India- founded by Australian Tibetan nun, Ayya Yeshe, a grassroots charity empowering some of the poorest and most oppressed communities in the world to break the cycle of poverty and oppression.
The combination as INDIAJIVA see Ron and Vicki blend the traditional world of Indian music with indigenous, world and contemporary musical genres. They have been recognized as masters at weaving ethereal Vedic chants and Raga Sangeet (ancient Indian music tradition which had been in existence for thousands of years) with their mystical sonorities and presenting their music in a contemporary and accessible manner wherever they go.

He continues to support the arts and humanitarian causes and encourages fellow artists to make a difference when they are aware of social injustices.
Music and Mantras for Health and Happiness
Immerse yourself in a unique, interactive and engaging online course exploring the use of sound, music and mantras for healing with world-renowned music duo IndiaJiva.
RECEIVE 20% OFF THE COURSE PRICE OF AUD$49 – now only $39! USE COUPON CODE: MANTRAMUSIC
The Ancient Rishis of India knew how to Heal through Music
In this video, Ron explains how the musical knowledge of the ancient Rishis and Sages of India was discovered and passed down – and how music has the ability to affect the mind and bring about healing.